Walking down Calgary streets, going to work, running errands, or having lunch, you'll constantly walk by people sporting Aritzia. Arguably one of the most popular Canadian brands, Aritzia has amassed a large following on Instagram, where they show off their popular pieces, style inspiration, and more.
Aritzia refers to its brand as "everyday luxury" and has about 10 in-store brands to target fashion lovers, from the feminine silhouettes of Wilfred to the detailed tailoring of Babaton.
Their in-store shopping experience is unique, with carefully folded purchases in their crisp white bags, mirrorless dressing rooms with concierge-style associates, and each store individually designed to feel like a standalone boutique.
These features can make Aritzia feel like a slow fashion brand, but Aritzia is considered fast fashion. Their physical stores are ever-expanding in stock, and their online store is a maze of fabrics and styles. To shop Aritzia in an economical and sustainable way, you can find pre-loved pieces at The Peacock Boutique Consignment.
Fast Fashion 101: What Is Fast Fashion?
At their core, fast fashion brands produce a high volume of clothes, emphasizing quantity in their designs. Think H&M, Ardene, and so many more, who seemingly have a revolving door of stock every week.
These brands capitalize on social media's fashion trends, hold their manufacturing practices as a closely guarded secret, and sell at unbelievably low prices to draw in consumers. Yet, their impact on the environment is incredibly damaging given the volume of clothes they produce, and many of these garments are disposed of in a landfill.
If you frequently see videos of fashion hauls from these types of stores, they're likely fast fashion brands.
Is Aritzia Fast Fashion?
Aritzia is a grey area—their prices are higher than many fast fashion brands, they have an entire sustainability page on their website, and their clothes tend to last and are high-quality.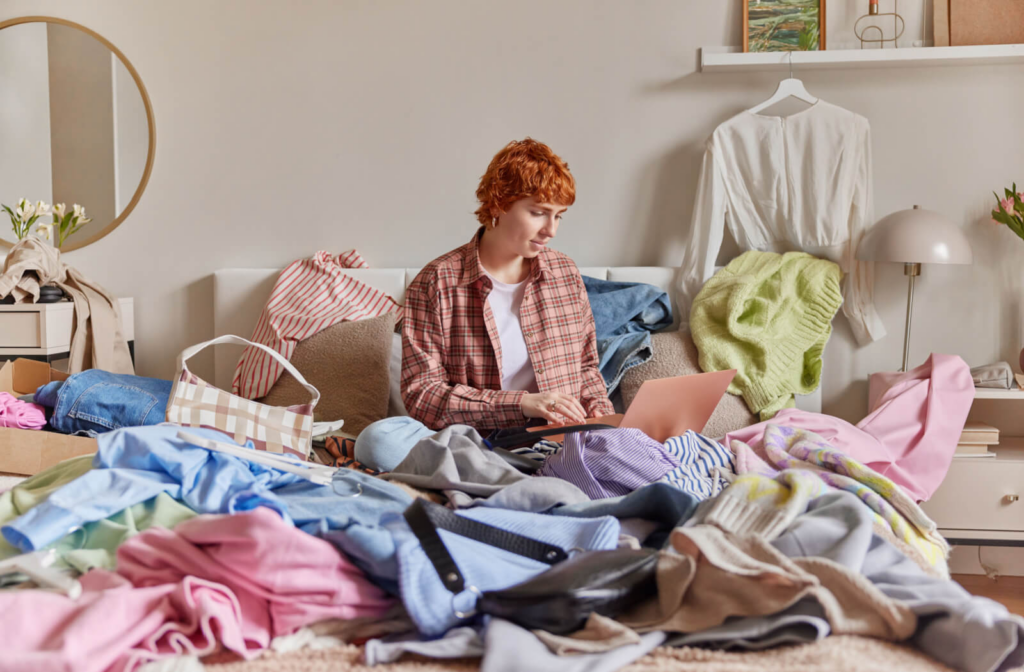 However, they produce an excessive amount of clothes, highly driven by the trends of celebrity culture. But even though Aritzia is fast fashion, their clothes are staples. Their timeless designs rise above the trends and create a culture all of their own.
Unlike other fast fashion brands, Aritzia garments are well-constructed, longer lasting, and they have many timeless, classic designs. They carry a range of brands, including:
Babaton
Tna
TnAction
Sunday Best
Wilfred
Denim Forum
Talula
Auxiliary
As far as fast fashion brands go, Aritzia brands can stay in circulation far longer than Gap, Urban Outfitters, Old Navy, and other fast fashion brands, making Aritzia preloved pieces a staple at The Peacock Boutique Consignment. Your personal style can change several times, but your Aritzia garments may fit seamlessly in someone else's closet.
Consign Your Pre-Loved Aritzia Pieces
Aritzia pieces are highly sought after, and since they're long-lasting, you can find like-new pieces secondhand. At The Peacock Boutique, we're proud to accept well-cared-for Aritzia clothes from any of their brands. We price your items fairly, and you'll receive 40% of the sale price.
Our 3 locations carry Aritzia pieces at a fraction of the original price, and you're doing your part to keep clothes in circulation. Instead of hitting the mall, visit our locations to browse Aritzia and other brands you love for less. Each location has unique stock, so take a trip to Kensington, Beltline, and Inglewood for the best finds, and contact us with questions about consignment.