With summer right around the corner, many Calgarians are counting down the days to our favourite unofficial holiday: the Calgary Stampede. Whether you're a seasoned rodeo enthusiast or just looking to enjoy the festivities, dressing up in your best western-inspired outfits is a must. But if you're not a wrangler on the regular, finding outfits to wear to Stampede can be a daunting task.
Whether you're looking to achieve a classic rustic look or want something a little more daring like the recent y'allternative trend, we've got you covered with everything from jeans to jackets—not to mention tips and tricks to put together a show-stopping look for The Greatest Outdoor Show on Earth.
Start By Shopping Your Closet
It can be hard to know what you need to look for when you're shopping if you don't know what's already in your closet. Common closet staples that can be transitioned for Stampede include:
Jeans & jean shorts
Button-up shirts, especially plaid or denim
Maxi dresses
Graphic tees
Jean jackets
Leather jackets
Short heeled boots
Once you know what's in your closet, you can start to think about what you need to complete your look for Stampede.
The Classic Stampede Look
If you're looking for a classic Stampede look, start with a pair of well-fitted jeans. If you're looking for an upcycle project, that old pair of jeans at the bottom of your closet can easily become a pair of cutoff shorts worthy of the July prairie heat.
Pair your jeans with a button-up shirt. Plaid is a classic choice, but denim can really bring together that Canadian tuxedo look. Add your favourite cowboy hat, and you've created the unofficial uniform of the Calgary Stampede.
Ditch Fast Fashion
Now that you've got the basics figured out, you might be looking for a statement piece that really takes your outfit to the next level. It can be tempting to turn to a popular online retailer and shop for the latest microtrends, but it's possible to achieve the perfect Stampede outfit without turning to fast fashion.
Fast fashion has some benefits—but comes at the cost of unfortunate consequences. The key to fast fashion is producing clothes ultrafast and for ultracheap, and this can result in a product that will only last for a season or two before it ends up in the landfill. Every year, North Americans send more than 10 million tonnes of clothing to the landfill.
Shop Consignment Instead
Shopping second-hand can be a fabulous alternative to fast fashion that's affordable AND sustainable. It's also an excellent opportunity to find that one-of-a-kind piece to complete your outfit for Stampede.
Shopping for your Stampede outfit can also be a great opportunity to support local businesses here in Calgary. Your local consignment shop can provide access to a curated selection of beautiful, brand-name clothing. The right jeans, tops, and dresses can be part of your new outfit for Stampede and eye-catching additions to your day-to-day outfits for the rest of the year.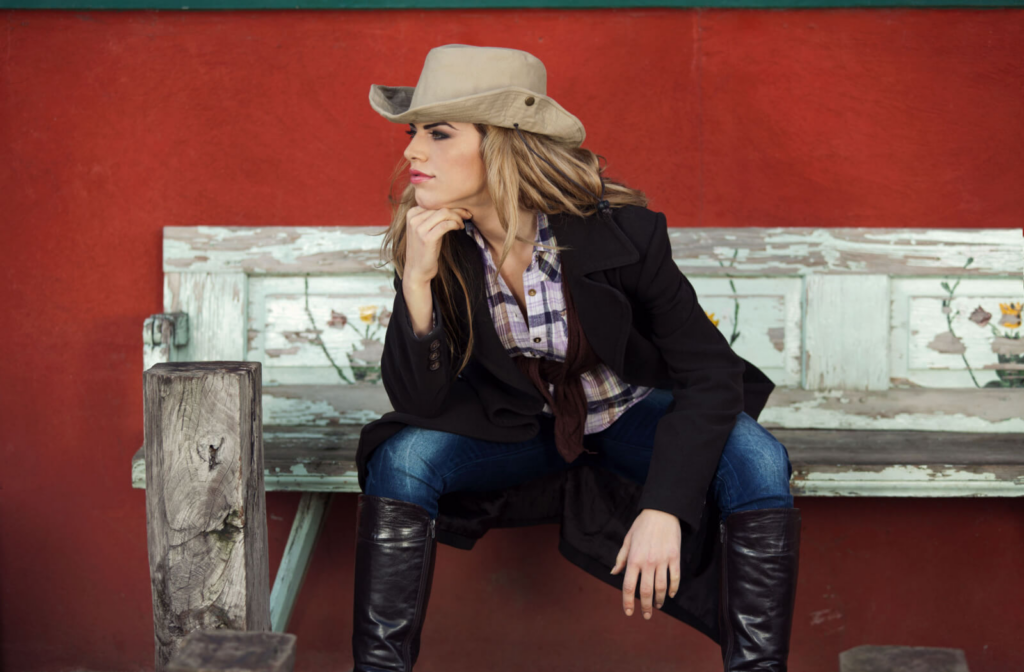 The Art is in the Accessories
What really makes an outfit Stampede-ready? Is it the cowboy hat? The boots? Maybe a big belt buckle? The fact is, all those accessories can be a powerful part of your stampede look.
The Perfect Hat
A cowboy hat is absolutely essential for a complete Stampede outfit. While really any cowboy-esque hat can do (including that one you got for free at last year's Stampede), this is the perfect opportunity to really show off your style.
Cowboy hats come in a variety of colours and materials, from the classic white straw hat to rhinestone-encrusted velvet hats. Even if you've gone relatively basic with the rest of your outfit, don't feel afraid to go all out with your hat!
Embrace the Boot
It's safe to say that cowboy boots get a well-deserved moment in the spotlight during Stampede.
Cowboy boots can be a versatile footwear option to give a western flair to your outfits during the Stampede and all year long, and a quality pair of boots doesn't have to break the bank. This is a great item to find second-hand at your local consignment shop.
If you're not quite ready to commit to a pair of cowboy boots, consider swapping them out with ankle boots for a more urban western look.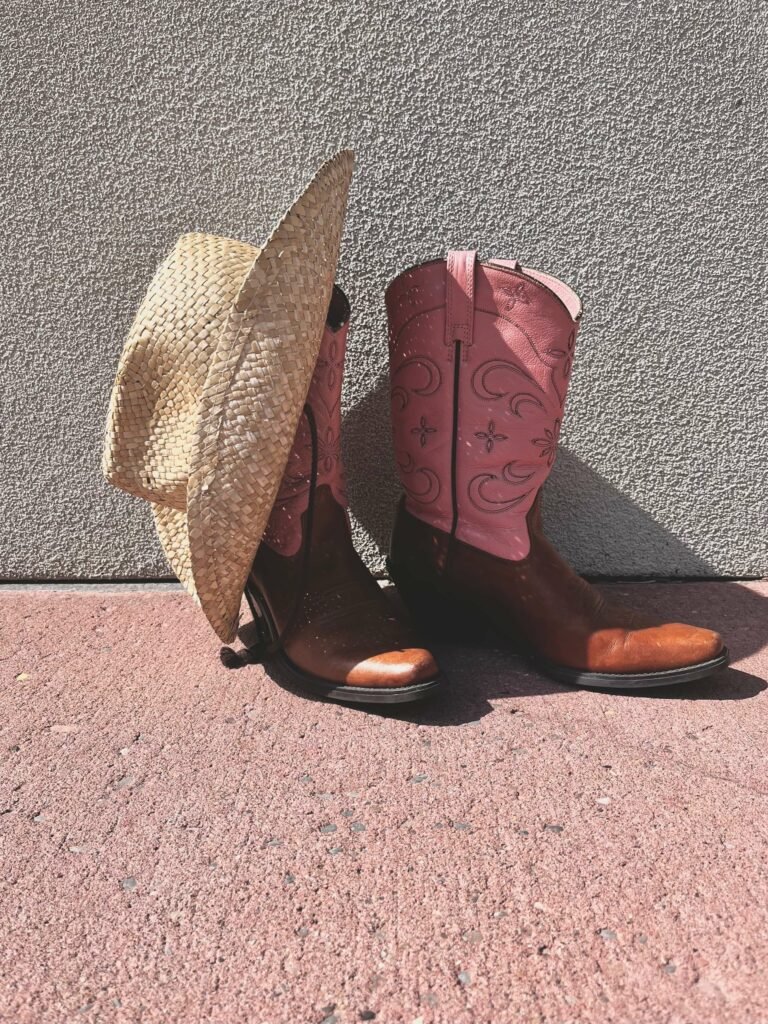 Final Touches
Sometimes it's the final touches that can really pull an outfit together. Adding a bit of fringe in the form of a vest or jacket is a classic choice that can help you achieve a chic vintage look. Adding other western-inspired accessories like a belt or bolo tie is another subtle option that can provide the finishing touches for your Stampede attire.
Stampede is the perfect time of year to have fun with fashion, so don't be afraid to take risks and try something new!
Get Stampede Ready
Since 1975, Peacock Boutique has been here to help you get Stampede-ready. Stop by one of our three Calgary locations to browse our curated selection of brand-name items that can complete your look.