Clearing out your closet can leave you with a pile of clothing that needs a new home. When you declutter your wardrobe, your goal might be to make some money back, but selling online is a hassle, often requires shipping, and usually only comes with a small return.
Keeping garments in the community, taking the selling off your plate, and putting more money back in your wallet sounds too good to be true—but that's what consignment shops are made for! Selling consignment in Calgary with The Peacock Consignment Boutique makes selling your used clothes effortless. With just a few steps, you can leave your clothes in our skilled hands and let us sell them on your behalf.
What Is Consignment?
New to consignment? A consignment arrangement allows you to hand over your unwanted clothes, shoes, and accessories to a third party, like The Peacock Consignment Boutique, to sell. Once we sell the items, you'll get 40% of the sale's profit.
Second-hand shopping for quality goods is trendy, and consignment shops keep the circular economy going in the fashion world.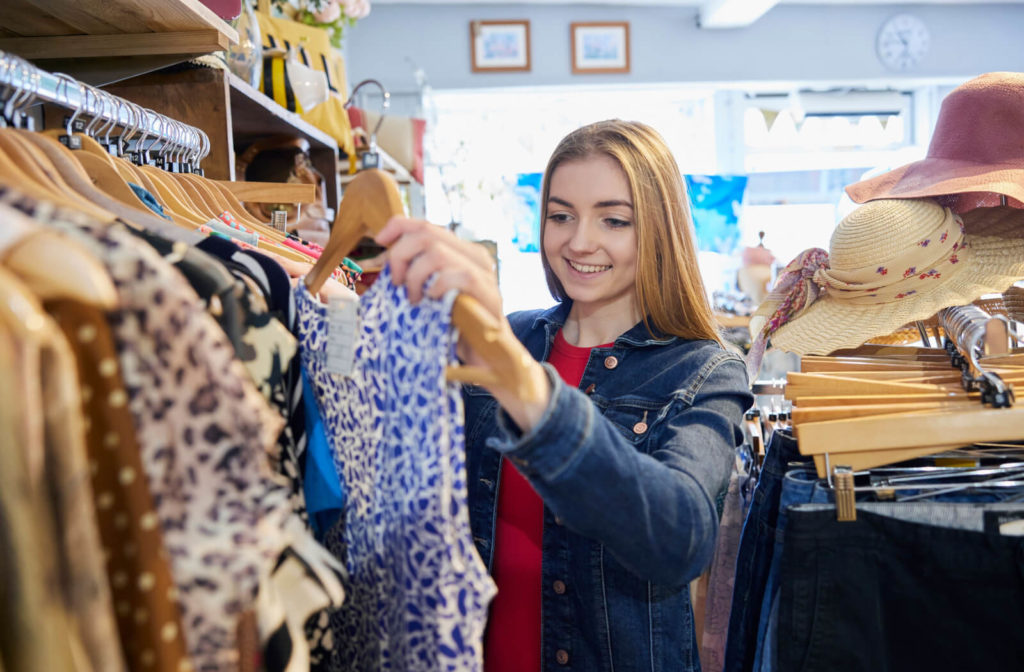 How Shopping & Selling Consignment Promotes Sustainability
Sustainability is on everyone's minds, and bringing sustainable practices to a clothing industry overrun by fast fashion is increasingly important. Keeping garments in circulation longer has personal and environmental rewards.
Save Money
Not only can selling consignment give you returns on the clothes you sell, but you can then use your credits to buy high-quality, pre-owned garments at a lower price. We have a continuous rotation of pieces coming into our 3 locations, where you can find high-quality pieces to add to your wardrobe.
Reduce Textile Waste
People are buying new clothes at a higher rate than ever before, but closets are only so large. As you rotate items out of your wardrobe, taking them to a consignment shop can keep them out of landfills. Textile waste is one of the fastest-growing waste streams and taking advantage of consignment shops to keep clothes in circulation for as long as possible, is a potential solution.
Reduce Your Carbon Footprint
As fast fashion is on the rise, so is the industry's carbon footprint. About 2–8% of global carbon emissions and 20% of wastewater are a result of the fashion industry. The industry now accounts for more emissions than both shipping and aviation combined.
By turning to consignment shops rather than hitting the mall, you can decrease your environmental impact on a personal level. When we share great consignment finds on social media and avoid shopping new when possible, we force fashion brands to take notice and make changes at the top levels.
How Does Selling Consignment Work?
At The Peacock Boutique, we make consignment simple. Before you come by any of our 3 locations with your clothes, we ask that you keep a few things in mind.
We accept freshly laundered drop-offs on all days that we are open
We welcome mid- to high-end pieces purchased within the past 2 years
Some fast fashion brands in excellent condition will be accepted and priced accordingly
Depending on the season, style, brand, condition, and current stock, we may choose not to accept some of your items
We love receiving all sizes if they fit the quality requirements
Since we don't go through items on the spot, upon arrival with your drop-offs, we'll give you a form to fill out and contact you once we've completed picking your items
You can choose to retrieve unsold items or allow them to be donated to local charities that are doing amazing work in the community
You receive 40% of your items' selling price, which can be accumulated as credits that last for 2 years for future purchases. Alternatively, you can email or call any of our locations to request an e-transfer payout.
If you need an update on the status of your account, feel free to call, DM, or email us with inquiries.
Shop Consciously with Us
We want to make selling and shopping consignment fun and stress-free, and we want you to leave the shop feeling good about doing your part for the planet.You can reach out to us with questions by email or phone at our Kensington, Beltline, or Inglewood shops. Stay connected with us on social media to learn more tips on how to keep your used clothing out of landfills and in other fashion lovers' closets!