Fast fashion is everywhere and many popular retailers fall into the category of fast fashion, especially those carrying trendy pieces. Not too long ago, fashion brands were releasing four collections a year to coincide with the seasons, but trend cycles have sped up significantly and this has led many brands to release more collections with less time in between.
Combating fast fashion starts locally. By shopping your closet, swapping clothing with friends, or selling and shopping consignment, you can make waves in your local community to limit clothing waste and keep clothes in circulation.
What Is Fast Fashion?
Virtually all consumer clothing design draws inspiration from the season trends seen on designer runways at fashion week. Fast fashion produces cheaply made clothes at lightning speed, taking advantage of the trends and appealing to impulse buyers and fashion lovers.
The downside of poor-quality production is that the pieces don't last—they begin to pill and tear, or the fabric becomes see-through and colours fade. At most, you can get a season or two of wear out of most pieces before they end up in the trash.
Why Is Fast Fashion Bad?
It's no secret that fast fashion has adverse effects on the environment and raises concerns around ethical production. Since the early 2000s, clothing production has nearly doubled, and while people buy more clothes than ever, they only keep them for a fraction of the time they used to.
It may not be surprising that many of these clothes eventually end up in landfills, but clothing production and fast fashion also pollutes our water sources. Textile production requires thousands of liters of water to produce one single shirt and washing clothing can release 500,000 tons of microfibers into the ocean in a year, most of which come from polyester, a synthetic fabric that doesn't break down in the water.
When consumers demand more sustainable industry practices and slow fashion, the fashion world will have no choice but to take notice. Quitting fast fashion for good doesn't take drastic changes and can save you money in the long run. But where do you start?
Learn About Fast Fashion
Understanding the implications of shopping fast fashion can motivate you to stick to more sustainable options. There's a lot to know about the fast fashion phenomenon, from ethical production and working conditions to energy, water, and microplastic issues.
Luckily, there are numerous resources to help you understand the impacts of fast fashion. Books about the industry from leading journalists, economists, environmental experts, and creative directors can give you an in-depth picture, while online articles can help you skim the surface for a basic understanding of fast fashion.
Exploring these resources can help encourage you to seek out sustainable, slow fashion options.
Play Dress Up in Your Closet
Do you have a favourite pair of jeans or a go-to sweater for chilly days? We sure do. You likely only wear about 20% of your wardrobe on a regular basis, while most of your garments lay waiting for their time to shine.
Before going shopping for new pieces, shop your closet. Try on your clothes and mix-and-match styles you wouldn't usually try when rushing out the door in the mornings. You may find that you have a few new favourite outfits to add to your rotation and items to swap or sell on consignment.
Mend Your Older Pieces
Mending your clothes takes a little time, but it can extend the life of your garments and give them a little personalization. From minor fixes like attaching buttons (for function or style), stitching at the seam to fix a hole, or putting a patch on a well-loved garment, with quick tutorials online, you can add "beginner seamstress" to your resume.
If you want to take on more advanced mending or take lessons to enhance your projects, you can use community sewing machines for guidance and supplies without the significant investment.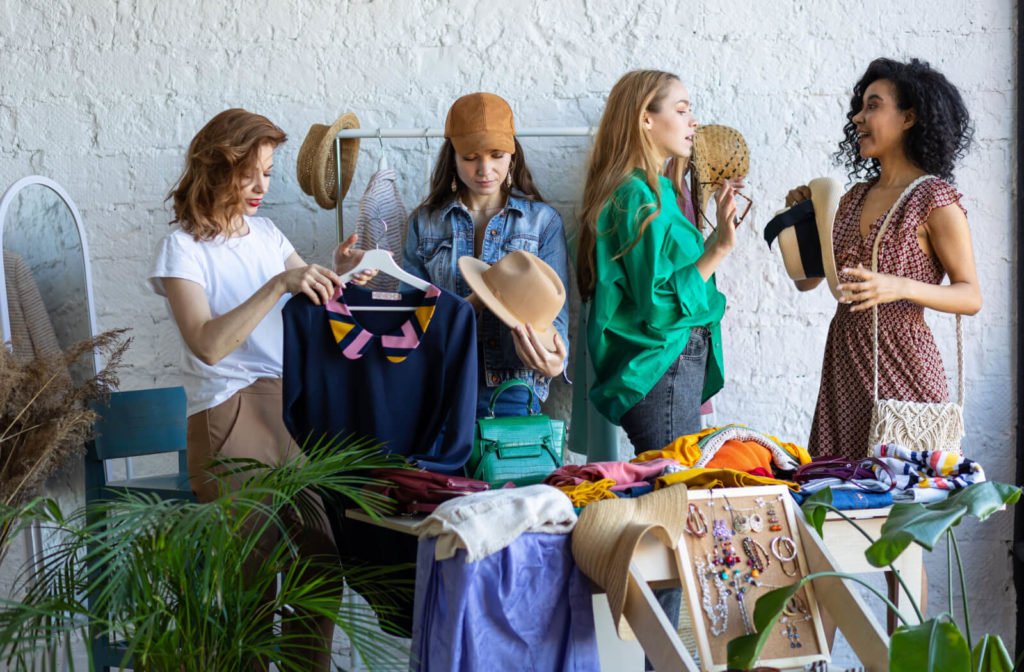 Host a Clothing Swap
Organizing a clothing swap can be a fun way to find new pieces with your friends, but instead of browsing fast fashion, you shop in each other's closets. You can keep the gathering small and have everyone bring pieces they no longer wear, or make it a community event for more variety in size and style.
Visit Local Consignment Shops
Consignment shops are the middle ground between buying new and thrifting. If you've never shopped consignment before, it's an amazing way to get high-quality, well-known labels with a mix of timeless and trendy pieces that have been well cared for by previous wearers.
You can shop brands from Aritzia, Madewell, Lululemon, Oak + Fort, and more, with new items constantly coming into our 3 locations across Calgary. You can also find new accessories for your jewelry collection from Pandora, Tiffany and more, along with bags, hats, and sunglasses.
Consignment can help you make some money during your next closet clearout. We look for mid to high-end fashion from the past 2 years, with some exceptions for vintage pieces of excellent quality. We'll price your items fairly, and you'll receive 40% of the selling price. Any items that can't be sold within 2 months will be returned to you or donated to local non-profits to benefit the community.
Free Yourself from Fast Fashion
Visit our locations to find pieces for any occasion. Sustainably rehaul your work wardrobe, find new pieces for nights out, or comfortable weekend wear for exploring the city and Sunday shopping.
Each store has something different with daily new inventory, so you never know what styles you'll find. Learn more about our consignment process, reach out to us with questions, and connect with us on Instagram to see what's coming into the shops in real time.