When it comes to ethical shopping, there are some fantastic options to explore: thrifting, consigning, and vintage shopping.
Thrifting is all about finding hidden treasures in thrift stores, flea markets, or online. It's not only a great way to reduce waste but also to save some cash. Consigning is like giving your pre-loved items a new lease on life by selling them through a consignment store. Not only can you make some extra money, but you're also doing your part to reduce waste.
And then there's vintage shopping, a delightful adventure of finding unique gems in vintage stores or online. It's a way to express your style while supporting sustainable fashion.
No matter which option you choose, ethical shopping is a win-win. It's a chance to reduce waste, support sustainable fashion, and discover one-of-a-kind items. So why not dive in and give it a go? You never know what amazing finds await!
What Is Thrifting?
Thrifting is a great way to shop ethically and sustainably and find unique, one-of-a-kind items that you won't find anywhere else. Shopping at second-hand stores, consignment shops, and vintage stores all count as thrifting.
Through thrifting, you can find clothes, furniture, and other items at a fraction of the cost of buying them new. Plus, you can feel good knowing that you're helping to reduce waste and support the local economy.
What Is Consigning?
Consigning is another fantastic option for ethical shopping. It involves selling your pre-loved items through a consignment store, where the store will take a percentage of the sale price as a commission.
This not only allows you to declutter your closet and make some extra money but also gives your items a new life instead of contributing to the growing issue of textile waste. Consignment stores often have a curated selection of items, making it a great place to find unique and high-quality pieces while supporting sustainable fashion.
What Is Vintage?
Vintage shopping is a popular trend in ethical and sustainable fashion. It involves searching for and purchasing vintage or second-hand items from previous decades, giving them a new life and reducing the demand for fast fashion.
Vintage shopping allows you to find unique pieces with character while promoting circular fashion, where items are reused and recycled instead of ending up in landfills. The hunt of vintage shopping can also be a fun way to contribute to sustainability efforts while finding your personal style.
The Impact of the Textile Industry on the Environment
The textile industry holds immense power over our environment, impacting every step from raw material extraction to clothing disposal. It's shocking to realize that the fashion industry alone contributes a staggering 10% of global greenhouse gas emissions, worsening the climate crisis. And that's not all—85% of all textiles eventually end up in landfills, causing massive waste and pollution.
In the face of these circumstances, it's crucial for us to make conscious choices and shop ethically to reduce our environmental footprint. One powerful approach is to embrace sustainable practices like thrifting, consigning, and buying vintage. By doing so, we not only contribute to the circular economy but also play a part in conserving resources and combating the harmful effects of fast fashion on our precious planet.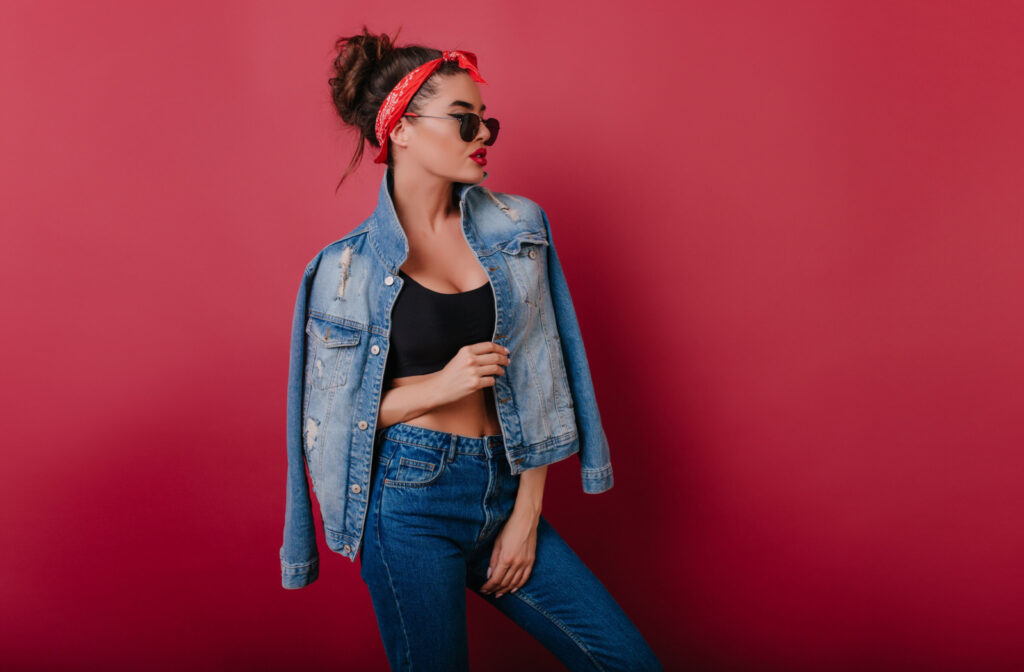 Benefits of Shopping at Thrift, Consignment, & Vintage Stores
In addition to helping the environment, thrifting comes with a range of benefits, from saving you money to supporting local businesses.
Budget-Friendly: Consignment and thrift stores offer great deals on quality clothing, making it the perfect option for those on a tight budget.
Unique Pieces: These stores often carry one-of-a-kind items that you won't find anywhere else, allowing you to express your individual style and stand out from the crowd.
High-Quality Items: Most consignment and vintage stores only accept quality items in good condition, so you know the pieces will stand the test of time. You can find pieces that are only gently used, and sometimes, even score never-worn items.
Support Local Businesses: By shopping at local thrift and consignment stores, you support small businesses in your community and help create job opportunities.
Reduction of Waste: Every item purchased from a second-hand store is 1 less item that ends up in a landfill, helping to reduce waste and pollution.
Ethical and Sustainable: By choosing to shop at thrift, consignment, or vintage stores, you're supporting ethical and sustainable practices in the fashion industry.
These are just some of the many benefits of shopping at second-hand stores. In addition to these, you also have the satisfaction of knowing that your purchases are making a positive impact on the environment and your community.
Join the Movement: Shop Ethically & Make a Difference
By choosing to shop at thrift, consignment, or vintage stores, you are supporting ethical and responsible practices that promote fair wages and safe working conditions for garment workers. You're also helping reduce the demand for fast fashion, which often relies on exploitative labour and harmful production methods.
Additionally, thrifting can be a fun and rewarding experience. It allows you to get creative with your style by mixing and matching unique pieces while also giving you the opportunity to discover hidden gems that may have been overlooked in traditional retail stores.
So next time you need to update your wardrobe, consider taking a sustainable approach and explore the world of thrift, consignment, and vintage shopping. Not only will you save money and support local businesses, but you'll also be making a positive impact on the environment and society as a whole.At The Peacock Boutique Consignment, we offer stylish and ethical gently used and vintage items. Join us in creating a more sustainable fashion industry for future generations. So, let's embrace the thrill of thrifting and shop with purpose. Happy hunting!